Choosing Paint for Your Home
Cloverdale's Paint Selection Guide provides a quick and easy way to find specific product recommendations for specific situations and needs.

 

View various brochures for information on Cloverdale Paint's architectural paints.

 

A new generation of paint specifically designed to reduce odour and polluting vapours released ino the air which can be harmful or irritating to the user or occupants of the areas being painted.

 

Paint that continues to give! ReCoat is 100% post-consumer recycled latex wall paint that is available for FREE for registered charities. Available in a few colours and available in certain areas only, the ReCoat program seeks to help those in need.

 

Get professional advice on a variety of painting and decorating challenges.
---

Cloverdale Paint offers a No Hassle Guarantee
Fast, Responsive, Unconditional Customer Satisfaction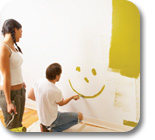 You have enough stress in your life. You don't want to worry about choosing the wrong product, or the wrong color for your home-decorating project. We understand. At Cloverdale Paint, we're proud of our products, our people, and our ability to help you get the job done right the first time. That's why we offer our famous "No Hassle Guarantee". Your satisfaction is not only our guarantee, it's why we're here. If you're not happy with your purchase, for any reason, bring back the unused portion of our product along with your receipt and we'll gladly offer you a complete refund, replacement or exchange.
YOUR CHOICE… NO HASSLES… GUARANTEED!

See our Cloverdale Paints Colour Palette...
---

Want to know what a colour looks like on your walls before you buy the paint? With our Colour Visualizer, you can do just that!